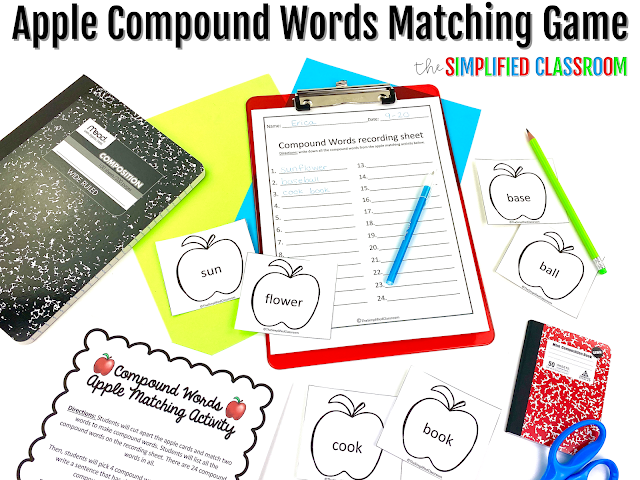 Yesterday was the first full day of fall and it was lovely where I live! Even though the school year seems to be taking a while to get off the ground and for routines to actually be routine, I'm definitely ready to start doing some fun fall activities with apples and pumpkins!
I love crafts, themed snacks, painting, etc. but now that I'm a reading teacher, I only have 30 minutes with each of my groups and we actually have to do literacy work most of the time… HAA!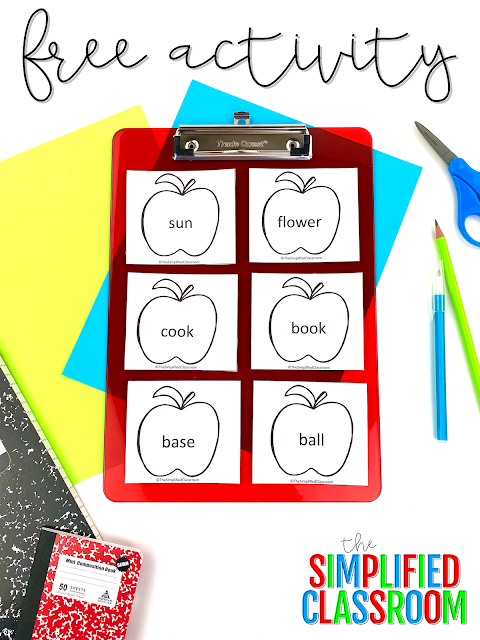 Directions
This free activity helps students practice compound words, write sentences, and think about the meaning of words. Simply print the freebie (I did on card stock), cut or have students cut the apple squares, and then students will match the compound words!
After that, there is a recording sheet to write the compound words and a sheet for a few sentences.
I'd recommend this activity for 1st-3rd graders depending on their abilities, but there are a lot of compound words to work on! You can also modify this activity by using less pairs of the compound words.
Students can match these pairs individually or in small groups. I always just let my students choose! After matching and writing down all the compound words, there is a page for students to use the words in a sentence. If you are short on time, you can extend that portion of the activity until the next day, or whenever you focus on writing.
Ready to download the freebie and check it out? Simply click the blue button below! If you have any issues, please reach out via email or social media! I'm on most platforms as The Simplified Classroom and my email is TheSimplifiedClassroom at Gmail!
Happy Teaching!
Need more apple inspiration? Check out these other free apple activities:
FROM LEFT TO RIGHT
Apple Compound Words Free Matching Game // The Simplified Classroom
A is for Apple Build a Poem // Little Learning Corner
Apple Fine Motor Activities // Fairy Poppins
Apple Math Game // M is for Monster
Leave a comment if you have an idea for my next freebie!