This post may contains affiliate links. If you choose to purchase after clicking a link, I may receive a commission at no extra cost to you.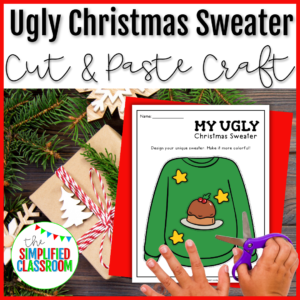 The Activity:
Embrace the holiday cheer and creativity with our Ugly Christmas Sweaters Cut and Paste Activity! This delightful craft is designed to spark your students' imaginations as they get hands-on in designing their own quirky Christmas sweaters. It's not just an art project; it's a jolly celebration of the season that encourages your students to express their unique holiday spirit. The Ugly Christmas Sweaters Cut and Paste Craft Activity is a fantastic way to infuse some festive fun and DIY flair into your classroom during the most wonderful time of the year.
Getting Ready:
First, purchase this teaching resource in our SHOP or on Teachers Pay Teachers. Then, print out your desired pages. Be sure to have colorful construction paper, safety scissors, glue sticks, and a collection of holiday-themed decorations such as sequins, pom-poms, and festive stickers readily available. This will allow them to let their imaginations run wild and craft the most unique and whimsical Christmas sweaters. Create a peaceful and organized learning space for your students. With these essentials in place, you're all set to embark on a fun and jolly holiday journey with your class!
Place the pages in a center with the additional materials for your students to play, learn, and celebrate this festive time of year!
Make it Fun:
To make the activity even more enjoyable, encourage your students to unleash their imagination and come up with the silliest and most festive sweater designs they can think of. You can turn it into a little contest, with prizes for the wackiest and most creative sweaters. Additionally, play some cheerful holiday music in the background to set the crafting mood, and maybe even have a hot cocoa station nearby for a warm and tasty treat while they work. These extra touches will make the activity a memorable and joyful experience for your students.
Our Bundle of Christmas Themed Worksheets and Activities are also a Must-Have for your holiday season toolkit! Unwrap the magic of learning this holiday season! These festive resources cover a wide range of skills and are sure to add cheer to your classroom. Make your December lessons merry and bright with this bundle! It's available in our SHOP and on TPT as well!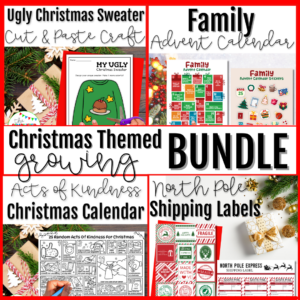 Writing Tips:
Get your students into the holiday spirit with our Letters to Santa with Mail Stamps kit! It's the perfect way to encourage creativity and festive cheer in the classroom. Let the joy of writing to Santa brighten your holiday lessons!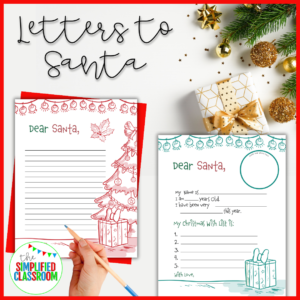 Ready to download our Ugly Christmas Sweaters Cut and Paste Activity? Simply click on the blue button below to be redirected to our TPT Store!

Happy Teaching! 
I would love if you left a comment with your plans for celebrating this holiday season & if you use anything I've created– tag me on Instagram!